Everett Third Saturday Art Walk!
Eight galleries and counting are now participating in this revival of the Everett Art Walk. Come join us in the SoLo District at Lowell Art Works to begin your trek with a map and an introduction to Snohomish County's rapidly growing art scene, or end up here to enjoy some refreshments, music, and our sparkling personalities!
Participating Galleries:



1-Anabel's Gallery
and Framing
2531 Broadway
(425) 258-6402



2-Arts Council of
Snohomish County
1507 Wall St.
(425) 257-8380
3-Covenant Art Glass
3232 Broadway
(425) 252-4232



4-Lowell Art Works
5205 S. 2nd Ave.
(425) 923-3635



5-Solovei Art Gallery
2804 Grand Ave.
(425) 501-2448
6 6-WiseDesignz
Gallery and Framing
2908 Wetmore Ave.
(425) 259-2361



7 7-Zippy's Java Lounge
1804 Hewitt Ave. Suite 100
(425) 258-4940
8-Sue Ellen Longwell
2905 Hewitt Ave. Suite A
(425) 252-5804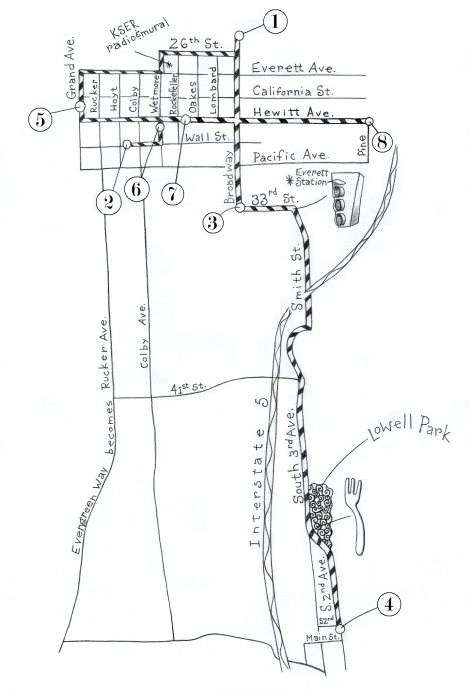 "Meet Me In Outer Space"

by Cheri O'Brien




oil on panel




"Beauty Queen (Five Minutes, Stop Honking)"




by Jules Anslow




acrylic on wood







"Leila"

by Susie Neiffer




mixed media






"Butterfly Tray"

by Kathleen Dawe




acrylic on wood







"3 NO-NO's: plus minus 3."

by Cid Wolstein




latex/ink on paper



Lowell Art Works
Web Design Software & Website Hosting
:::